"The First Step is to be Curious"
Astronaut Douglas Wheelock visits campus to talk extreme engineering in space
Mar 01 2019 | By Jesse Adams | Photo Credit: Timothy Lee Photographers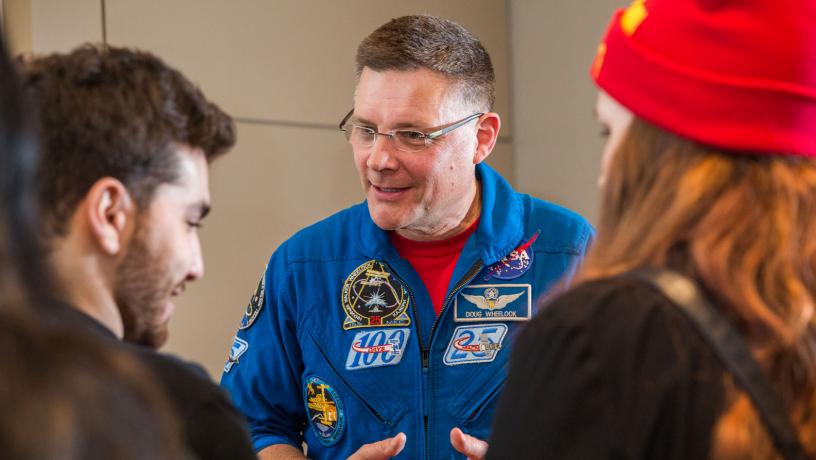 It was late 2007, and astronaut Douglas H. Wheelock had only recently arrived aboard the International Space Station (ISS). A former test pilot for the US Army, Wheelock had spent nearly a decade training with NASA, even working as an underwater aquanaut. But this was his first foray beyond Earth, and almost immediately his skills as a flight engineer were put to the test: during redeployment, an external solar array had torn, threatening the station's power supply.
Suddenly, Wheelock and a crewmate found themselves conducting an unplanned spacewalk to make a crucial fix with very limited supplies on hand. Their solution: a set of "cufflinks," cobbled together from spare parts, aluminum and wire, to fasten the equipment back together. The inventive contraption worked, and the array was able to deploy without further damage.
"It was remarkable how often critical things on the station would break," Wheelock told the crowd at the most recent installment of Columbia Engineering's Extreme Engineering series on February 21.
Following an introduction from Columbia Engineering professor and fellow astronaut Mike Massimino, Wheelock regaled attendees with numerous tales from his space travels. Ultimately, he would go on to spend 178 days in orbit, serving in two missions as a commander and flight engineer on board the ISS, the Space Shuttle Discovery, and a Russian Soyuz spacecraft. He performed six spacewalks in total, maintained critical hardware, and cherished every last glimpse of our precious home planet, "an amazing explosion of color in a vast empty sea of darkness."
It was a long journey from his native upstate New York to out of this world, Wheelock recalled. After attending West Point, he served as an experimental test pilot in the U.S. Army, reaching the rank of Colonel and studying aerospace engineering at Georgia Tech before getting the call from NASA in 1998.
In his second mission in 2010, Wheelock returned to the ISS—a $150 billion feat of engineering in and of itself—via a Soyuz craft. He spent several months there maintaining the station and conducting research, including a stint as the first U.S. Army officer in command. After a few weeks aboard, he was forced to respond to an emergency shutdown of the station's external cooling system and lead three unplanned spacewalks to replace a faulty ammonia pump, successfully restoring full function.
As much as he relished his time in space, and still hopes to go back one day, at the end of a tour Wheelock was always ready to come home.
"I had a lot of fun up there, but I missed the Earth," he said. "Birds, rain, kids playing, people laughing—the sights and sounds."
He concluded his talk by noting that NASA is currently recruiting, and inviting all the stargazers in the room to consider careers in space exploration.
"The first step is to be curious about the world around you," Wheelock said. "When you have a curious mind and you drop limitations, that's when the magic will begin."