The undergraduate program leading to the B.S. degree in mechanical engineering is accredited
by the Engineering Accreditation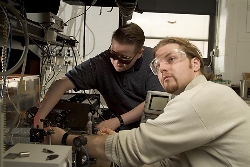 Commission of the ABET,
http://www.abet.org. 
It has been designed to take advantage of the unique and outstanding liberal-arts education provided by Columbia College. There are 27 points of nontechnical credit within the B.S. degree requirement. Undergraduate students can choose from an extensive list of available courses both within the department and engineering school, as well as at Columbia College. Many faculty members in the department have received outstanding teaching awards. There are numerous opportunities for undergraduates to participate in research projects, working with faculty and graduate students in our state-of-the-art labs. Most undergraduate students also participate in clubs such as the ASME, Solar-Splash, SAE, and AIAA.